Tulagi (Burns Philp)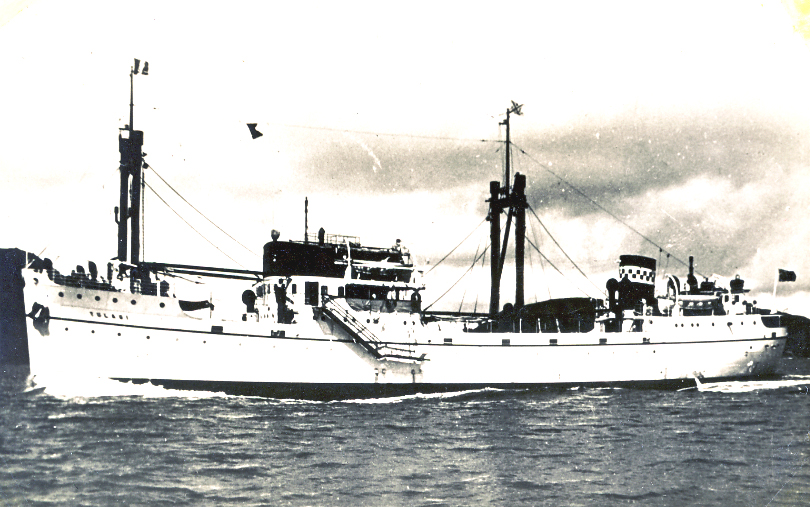 On 23 January 1942 when Japanese invaded Rabaul, Tulagi was en route from southern ports to Darwin, a port becoming increasingly congested with merchant and naval vessels. She participated in the convoy to reinforce the Australian force on Timor, the convoy coming under Japanese air attack on 16 February, being ordered to return to Darwin and reaching there on the afternoon of the 18th.
Still at anchor, with still some American troops on board,Tulagi suffered only superficial damage during the bombing raids the next day, but to facilitate troop disembarkation it was run ashore, despite local crocodile infestation. Troops and crew got ashore, some crew (including Master and Chief Engineer) soon returning. The ship was floated off on the 20th, with twenty-five crew aboard.
British registered Tulagi, following two years serving Allied armed forces needs to Australia's north, was taken under the control of the United Kingdom defence authorities, subjected to some structural changes in Colombo and tasked for support to the Royal Navy. Sailing on 10 March from Sydney with a cargo of flour for Colombo, she was torpedoed in the Indian Ocean on 27 March by the German submarine U532. She sank in twenty seconds, stern first and rolling to starboard with the loss of thirty-nine souls. Survivors now left on rafts were three deck officers, two engineers (including the Chief), the Purser, five naval gunners, and three Malay and one Chinese crew member. One of the most epic survival drifts now began.
Privations of weather and bodily sustenance took nine lives over the next fifty-eight days, the seven ultimate survivors being washed up the island of Bijoutier in the Seychelles on 25 May 1944. By a variety of transport means these seven reached Sydney on 31 July. A number returned to sea soon after. Five bravery awards were later announced.