Nortraships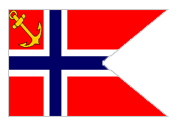 The Germans invaded Norway in early April 1940. Some Norwegian ships escaped and many were at that time in foreign ports. The Norwegian Shipping and Trade Mission ("Nortraships") was formed by the exiled Norwegian Government for its free shipping, whose over 800 ships then gave significant support to the Allied cause through to the war's end.

Many Australians were working on Norwegian vessels, many of them and their ships being lost to enemy action. A number of varied-purpose vessels were requisitioned by the British Ministry of War Transport and allotted for service in the Asia/Pacific theatre of the war. Bulk material of all types as well as the impedimenta of war, and personnel, comprised their cargoes. A number became casualties.

The summary which follows, although mentioning only a few ships, is indicative of the Norwegian contribution to victory in the Indian/Asia/Pacific area:
| | |
| --- | --- |
| Ship | Event |
| Vito | 940-1941 phosphate, coal and iron cargoes, 1941-1945 military supplies trans-Pacific, survived enemy air attacks |
| Vinni | 1940 phosphate cargoes, then victim to deception German raider Komet, the crew captured, ship sunk |
| Panama Express | 1940-1945 sailed 327,000 miles with Pacific theatre military supplies and personnel, survived Japanese attacks, participated in Philippines re-capture |
| Skagerak | 1940-1945 Australian coast/South West Pacific area carrying nearly 370,000 tons in the period, including help in Nauru families' evacuation |
| British Colombia Express | 1940-1945 Australian coast/South West Pacific area transporting cargo and personnel, used by General Macarthur as HQ, survived bombing in Philippines |
| Hermion | June 1941-September 1946 under control of the Australian Shipping Control Board, including use in returning Australian troopes from Middle East 1942 |
| Lidvard | Escaped Vichy French "internment" July 1941 then operated to and from Australia in Indian and Pacific Oceans to war's end |
| Prominent | 1942 returning Australian troops and equipment from Middle East to Java/Sumatra. Most of the personnel landed became prisoners of war. |
| General Fleischer | Built 1943/1944, numerous campaign engagements, served in Battle for Leyte Gulf, P.I., survived 203 air raids, fired 151 gun and 5500 Oerlikon rounds |
| Fingal | Australian coastal war transportation. En route Sydney-Darwin on 5 May 1943, torpedoed by Jap. submarine I.180 off Coffs Harbour New South Wales. Sank in minutes, 12 crew lost, 19 survived. |
| India | Left Peru for Australia 3/9/43, oil cargo. Nothing more heard. Fate unknown, perhaps German raider Michel vicinity Easter Island |
| Acadia | 1940-1945 logistic support in the Pacific. Briefly detained as suspect at Fremantle July 1940, then some 38 voyages carrying phosphates and supplies |
Also deserving of mention are Nortraships' participation on the Indian Ocean battlefield: Hoegh Silverdawn and Ferncastle sunk by German raider Michel, while others (along with some mentioned above) such as Hindanger, Hellas, Herborg, Eidsvold, Erling Brovig, Seirstad, Tunni, Bordvik, Proteus and many more aided the struggle to victory.